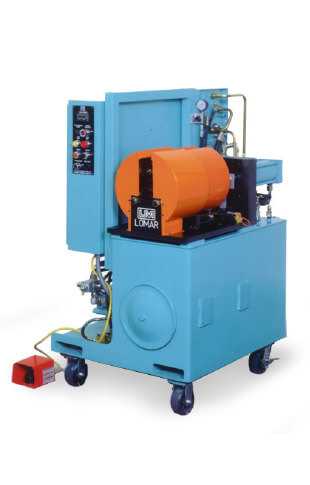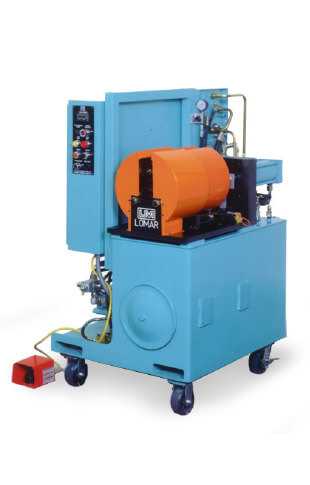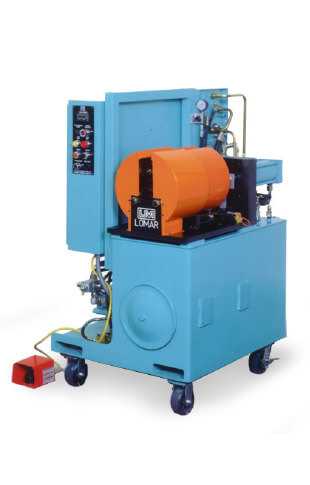 S1133 Crimp Machine
The powerful Lomar S1133 high production crimp machine adapts especially well to crimping operations that require attaching bent or long tubes to hose.
The "open throat" design allows you to "top load" an assembly, rather than load it through the front of a conventional radial crimp ring.
This arrangement facilitates quick part loading and removal, especially those with bent or long straight tubes.
The radial design of the 8-jaw crimping head assures a superior crimped fitting due to the uniform jaw convergence at the same rate of travel. Crimp cycle time is approximately four seconds.
The hydraulic unit is integrated to the machine. This compact design saves space allowing it to fit very well within a production cell. Standard heavy duty locking casters makes moving the S1133 machine quicker when rearranging a work cell.
Applications
A/C Lines
Fuel Lines
Transmission Lines
Brake Lines
Hydraulic Lines
Power Steering
Swaging Applications
Staking Applications
Specifications
DIMENSIONS: 41″ L x 34″ W x 58″ H
TOP LOAD OPENING: 1.17″ Wide
SHIPPING WEIGHT: 2,000 Lbs.
HYDRAULIC PUMP: 15 G.P.M.
RESERVOIR CAPACITY: 50 U.S. Gallons
ELECTRICAL REQUIREMENTS: Per Customer Requirements
ELECTRICAL MOTOR: 10 H.P.
MACHINE CYCLE TIME: 4-5 Seconds
Features
Adjustable crimp diameters entered through a knobpot on the control panel.
Open throat crimp cage provides the ability to top load a variety of tube assemblies.
Options
• Locator kit to position hose/tube assemblies for crimping.
• Safety light curtains.
• Auto mandrel extract.
• CSA / CE / NR12 Compliance.