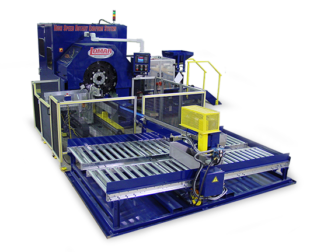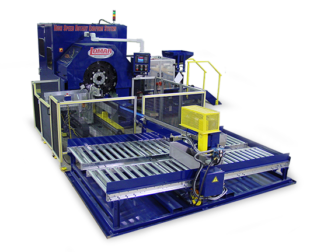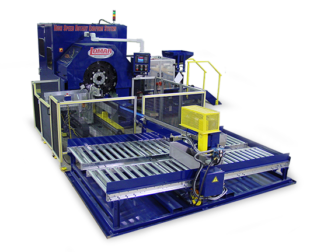 S1138 Multi-Hit Rotary Endform Machine
The S1138 Multi-Hit Hydraulic Endformer  incorporates rapid endforming, grooving, and cutting operations in one machine.
Combining key design features of other Lomar Machine products with new, patented technology enables the S1138 to achieve a new performance standard in tube forming.
The Lomar S1138 utilizes an 8-station rotationally indexing turret, which incorporates up to 8 individual sets of clamp tooling.
Station 1 is a load position, stations 2 through 7 are "work" stations, and station 8 is an unload station.
The result of this manufacturing process is a complete, finished part, with up to 6 endform operations, without excessive diameter reduction, in 4 – 5 seconds.
Up to Six Endform Operations
Autoload / Unload
Utilizes Industry Standard Tooling
Servo Indexing
Roll Grooving / Cutting
Component Feeders
Applications
A/C Lines
Fuel Lines
Power Steering
Transmission Oil Cooler Lines
Specifications
DIMENSIONS: 108″ long by 80″ wide by 88″ high
SHIPPING WEIGHT: Approximately 8,000 lbs
ELECTRICAL: Per Customer Requirements
ELECTRICAL MOTOR: 40 HP
HYDRAULIC PUMP: 28 & 6 GPM
RESEVOIR CAPACITY: 80 U.S. Gallons
MACHINE CYCLE TIME: 4 to 5 Seconds (Application Dependent)
Features
• Autoload / Unload
• Adjustable Tube Hopper (7″ to 60″)
• Servo Controlled Flag Stop
• 5 Endforming Stations
• Dual Position Servo Controlled Roll Grooving Station
• Flood Lubrication System
• AB HMI
• Lomar Patented Quick Change Tooling Cartridges
Options
Bowl Feeder & Escapement for Fittings
Mist Lubrication System
Perimeter Guarding (Safety Scanner)
CSA / CE / NR12  Compliance Available