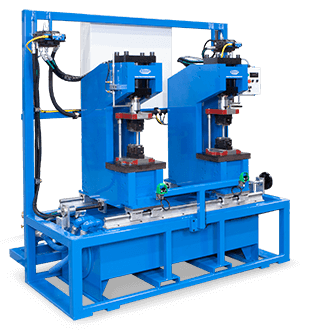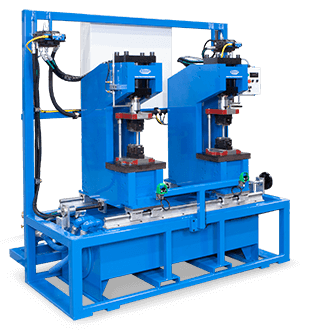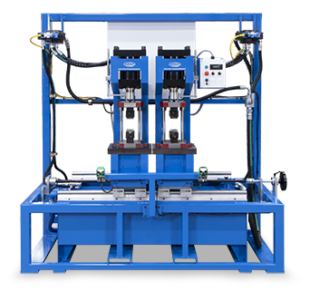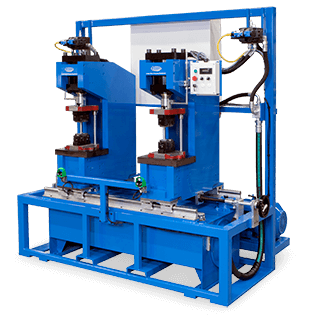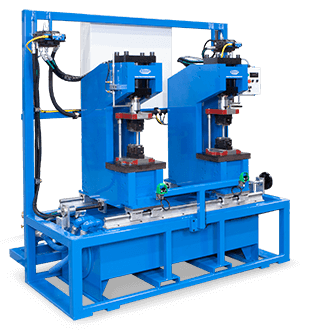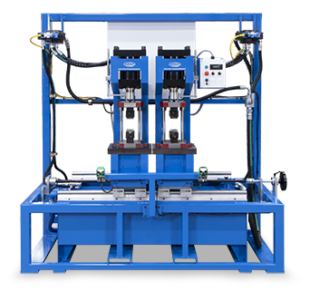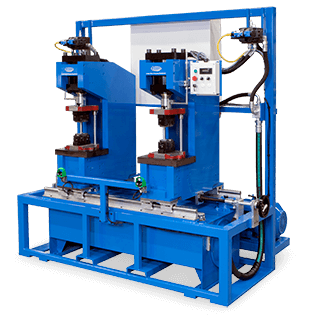 S1137 Dual Head Crimp Machine
The S1137 Dual Head Hydraulic C-Frame Press is designed for production applications such as; die set crimping, staking, punching, riveting, and pressing operations.
Both stations are mounted on linear rails which allow for lateral adjustment of centerline distance between stations of 11.5" minimum, and up to 55" maximum.
Operator has the ability to operate both heads in conjunction or independent of each other.
The compact design saves space allowing it to fit very well within a production cell.  Dual opto-touch cycle start buttons are standard.  Safety light curtains are available as an option.
Applications
Crimping
Staking
Punching
Riveting
Cutting
Stamping
Marking
Specifications
Dimensions: 49″ L (1244mm) x 62″ W (1575mm) x 77″ H (1956mm)
Electrical: 240-480V, 3 PH, 60Hz (Other configurations available)
Electrical Motors (2): 15 HP
Hydraulic Pumps: 10 G.P.M.
Features
• Self Contained Hydraulic System
• Dual Heads can operate in conjunction or independent of each other
• Utilizes existing Lomar S1087 Crimp Die Sets
• Small footprint
Options
• Mesh guarding
• Lexan guarding
• Three section vertical light curtains
• Horizontal light curtains
• 6″ Riser Kit or Caster Kit
• S1095-25 Mandrel attachment
• CSA / CE / NR12 compliance