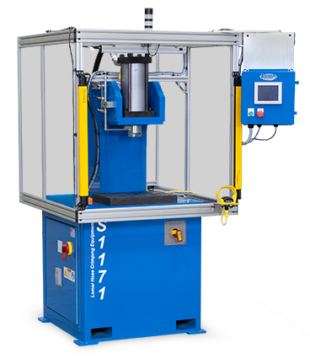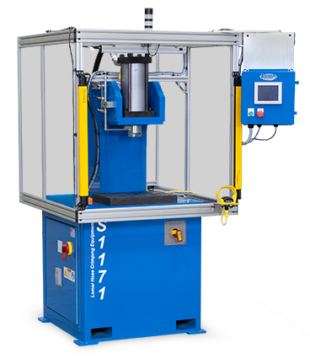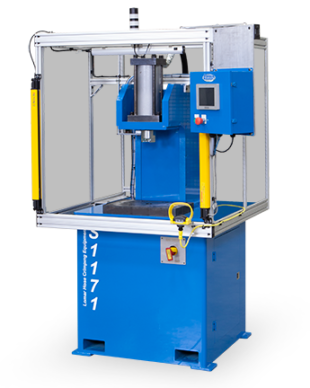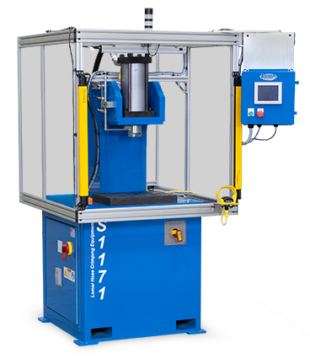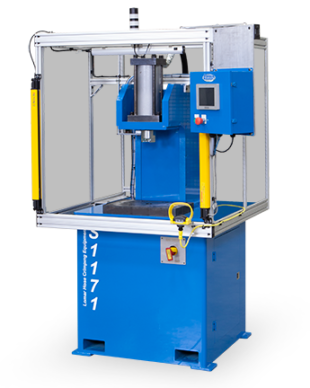 S1171 Air/Oil Crimp Machine
The Lomar S1171 is an industrial grade, air over oil operated press designed for hose crimping applications. Coupled with Lomar S1087 crimp die sets, the S1171 consistently produces factory crimped hose/tube assemblies to O.E.M. specifications. The machines diversity lends itself to other press type operation as well.
Using Lomar's quick change Die Sets provides size-to-size changeover time of five minutes or less. Utility requirements are minimal: 120 volt power source and shop air supply.
Operator safety is provided with dual palm buttons (shown) or choose from optional light curtain packages. The ergonomic work station provides a clear view for the operator and easy access for loading and unloading of parts.
Compact Footprint
Industrial Air over Oil Press
15 Tons at 80 PSI
4″ of Total Stroke – 1/2″ Power Stroke
Utilizes S1087 Crimp Die Sets
Dual Opti-Touch Cycle Start Buttons
Applications
Crimping
Staking
Punching
Assembly
Pressing
Forming
Specifications
ELECTRICAL: 120V, 1-PH, 60Hz
AIR CONSUMPTION: 1.568 SCFM Per Cycle
MACHINE CYCLE TIME: 4 Seconds (Estimated)
NOISE LEVEL: 65 dBa at operator station
CAPACITY: 15 Tons
SHIPPING WEIGHT: Approximately 2,500 lbs
DIMENSIONS: 34″ wide by 34″ deep
Features
Operator controls allow operator to select auto or manual mode for advance and retraction of cylinder.
Quick change tooling die-sets for hose crimping and other applications.
Options
Two-section horizontal light curtains
Three-section vertical light curtains
Part locators and orientation fixtures position hose or tube assemblies for repeatable crimp locating
Part present sensors
Operator touch screen interface
CSA / CE / NR12 compliance